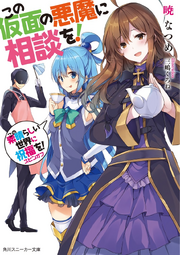 Kono Kamen no Akuma ni Soudan wo!
(この
仮面
の
悪魔
に
相談
を!,
Consulting With This Masked Devil!
) is a Japanese light novel series written by Akatsuki Natsume and illustrated by Mishima Kurone. It is a spinoff of
Kono Subarashii Sekai ni Shukufuku wo!
, and the series has been published by Kadokawa Sneaker Bunko since March 2016.
Light NovelEdit