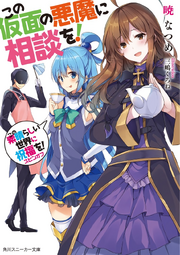 Kono Kamen no Akuma ni Soudan wo!
(この
仮面
の
悪魔
に
相談
を!) is a Japanese light novel series written by Akatsuki Natsume and illustrated by Mishima Kurone. It is a spinoff of
Kono Subarashii Sekai ni Shukufuku wo!
, and the series has been published by Kadokawa Sneaker Bunko since March 2016.
Light NovelEdit
Ad blocker interference detected!
Wikia is a free-to-use site that makes money from advertising. We have a modified experience for viewers using ad blockers

Wikia is not accessible if you've made further modifications. Remove the custom ad blocker rule(s) and the page will load as expected.