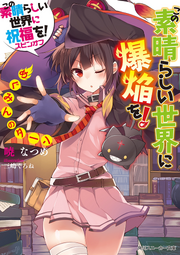 Kono Subarashii Sekai ni Bakuen wo!
(この
素晴
らしい
世界
に
爆焔
を!) is a Japanese light novel series written by Akatsuki Natsume and illustrated by Mishima Kurone. It is a spinoff of
Kono Subarashii Sekai ni Shukufuku wo!
, and the series has been published by Kadokawa Sneaker Bunko since June 2014. The series has been also adapted into an ongoing manga series, which began serialization in Gekkan Comic Alive in May 2016.
A second series, titled Zoku Kono Subarashii Sekai ni Bakuen wo! (続・この素晴らしい世界に爆焔を!), has been published by the same publisher from December 2016.
Light NovelEdit
Ad blocker interference detected!
Wikia is a free-to-use site that makes money from advertising. We have a modified experience for viewers using ad blockers

Wikia is not accessible if you've made further modifications. Remove the custom ad blocker rule(s) and the page will load as expected.